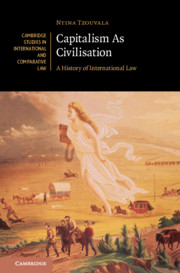 Ntina Tzouvala (Australian National University College of Law) published Capitalism As Civilisation: A History of International Law with Cambridge University Press in 2020. From the publisher:
Methodologically and theoretically innovative, this monograph draws from Marxism and deconstruction bringing together the textual and the material in our understanding of international law. Approaching 'civilisation' as an argumentative pattern related to the distribution of rights and duties amongst different communities, Ntina Tzouvala illustrates both its contradictory nature and its pro-capitalist bias. 'Civilisation' is shown to oscillate between two poles. On the one hand, a pervasive 'logic of improvement' anchors legal equality to demands that non-Western polities undertake extensive domestic reforms and embrace capitalist modernity. On the other, an insistent 'logic of biology' constantly postpones such a prospect based on ideas of immutable difference. By detailing the tension and synergies between these two logics, Tzouvala argues that international law incorporates and attempts to mediate the contradictions of capitalism as a global system of production and exchange that both homogenises and stratifies societies, populations and space.
Praise for the book:
"This is an elegant analysis of the historical role of international law in reproducing the conditions of global capitalist expansion. Tzouvala demonstrates that the late-nineteenth-century notion of the 'standard of civilisation' never really went away. It was simply an early embodiment of persistent ideas about modernist 'improvement' and biological difference that continue to structure the production of global inequality to this day. Throughout, the author's discussion is sophisticated, and, above all, legal. Tzouvala focuses on key institutions and moments from the League of Nations to the judicial treatment of apartheid and the wars in Iraq and Syria. Through changing political contexts, she argues, international law was used to discipline and subordinate potential challengers to the capitalist global order. This is an original, powerful treatment of the role of international legal argument in the construction and maintenance of a fundamentally unequal world." - Martti Koskenniemi
"In Capitalism As Civilisation, Ntina Tzouvala provides a powerful account of 'civilisation' as a binary construct used by the international legal system to exclude non-western political communities, while simultaneously promising them an illusory inclusion contingent upon 'reforms' that facilitate global capitalism. A beautifully written book that makes legal theory eminently accessible, Capitalism As Civilisation is a must-read for anyone interested in critical perspectives on international law." - Natsu Taylor Saito
"Much work has been done on the issue of the 'standard of civilisation' since the topic of imperialism became central to international legal scholarship. It is remarkable, then, that Capitalism As Civilisation, through its interrogation of the protean concept of civilisation, succeeds in offering new and powerful insights into current debates about international law, and its history and trajectory. Adroitly exploring the complex connections among capitalism, civilisation, gender, race and biology, Capitalism As Civilisation is a fresh and valuable work that pushes the boundaries of critical international law and will surely provoke new lines of inquiry." - Antony Anghie
"In Capitalism As Civilisation Ntina Tzouvala makes a brilliant intervention into debates about the relationship between international law, capitalism, and racism. She deftly combines theory, history and political economy to demonstrate the deep interconnections between the logic of 'civilisation' and processes of capitalist accumulation. It will be essential for anyone interested in understanding international law in its contemporary and historical guises." - Robert Knox
"In this impassioned and timely book, Ntina Tzouvala brings a humanist interpretation of Marxism to bear on the violent history of colonisation and capitalist exploitation facilitated by international lawyers since the nineteenth century. Tzouvala compellingly argues that the standard of civilisation has not been abandoned but that it reappears in new patterns of international legal argumentation that continue to impose and entrench capitalist relations on a global scale. Capitalism As Civilisation gives voice to a new spirit of revolution in a world on fire." - Anne Orford
Further information is available here.
--Mitra Sharafi