(We share the following announcement about the papers of S.J.V.Chelvanayakam,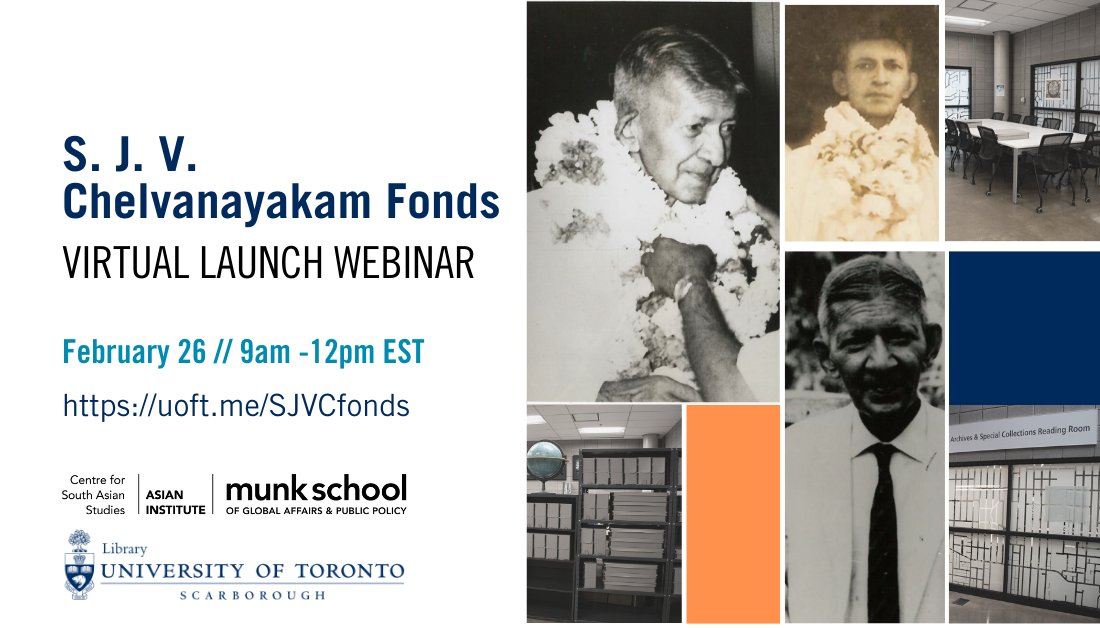 Tamil lawyer and leader in 1950s-70s Sri Lanka, which will soon be available as a digital archive. -MS)
Please join us for a free online public webinar celebrating the launch of the S. J. V. Chelvanayakam digital archive at the University of Toronto on Feb. 26, 2021 at 9am-12pm EST. The webinar will bring together international scholars and researchers who will speak about the Chelvanayakam archive, colonial and postcolonial history, justice and law, historical memory, and the significance of digital archives in the modern world. This webinar introduces the Chelvanayakam fonds and is envisioned as an invitation to future community and research collaborations, storytelling, and the sharing of memory.
Speakers:
• Bruce Matthews, Acadia University (Emeritus), "S. J. V. Chelvanayakam"
• Thamilini Jothilingam, UTSC, "A Return to Words: Metadata, Metahistory, and Digital Memory"
• Sujith Xavier, University of Windsor, "They're talkin' 'bout a reconciliation: Listening to the Whispers in the Chelvanayakam Archives"
• Vasuki Nesiah, New York University, "Towards a Larger Freedom"
• T. Sanathanan, University of Jaffna, "Translations of a Document"
This event marks the launch of the archive of S. J. V. Chelvanayakam, an extraordinarily significant political leader of the Tamil community in postcolonial Sri Lanka. As a leader, lawyer, and parliamentarian, Chelvanayakam's life bears witness to significant political events in the island from the 1950s to the 1970s. His papers, comprising of voluminous correspondence, along with documents and pamphlets, were meticulously collected by Mr. Chelvanayakam's daughter, Susili Chelvanayakam Wilson. The archive was then donated to the University of Toronto Scarborough Library by Susili Chelvanayakam Wilson and Mr. Chelvanayakam's granddaughter, Malliha Wilson.
This webinar is free and open to everyone and will take place via Zoom. The webinar will be in English and Tamil with live interpretation in both languages.
Zoom link: https://zoom.us/webinar/register/WN_eWITmA6uT66hV3jcvb9LOw
Also presented by:
• UTSC Library
• Tamil Worlds Initiative
• Munk School of Global Affairs and Public Policy
Further information is available here.
--posted by Mitra Sharafi