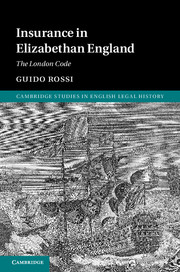 English insurance came into being almost entirely during the Elizabethan period. However,
the Great Fire of 1666 consumed most of London's mercantile document, and therefore little is known about early English insurance. Using new archival material, this study provides the first in-depth analysis of early English insurance. It focuses on a crucial yet little-known text, the London Insurance Code of the early 1580s, and shows how London insurance customs were first imported from Italy, then influenced by the Dutch, and finally shaped in a systematic fashion in that Insurance Code. The London Insurance Code was in turn heavily influenced by coeval continental codes. This deep influence attests the strong links between English and European insurance, and questions the common/civil law divide on the history of commercial law.
Here is the Table of Contents:
Part I. Legal-Historical Background:
2. Some remarks on the origins of English insurance
3. Insurance in late sixteenth-century England
Part II. The London Code:
4. Preamble: sea-carriage and averages
5. The making of the London Code
12. Abandonment to the insurers
Full information is available here.