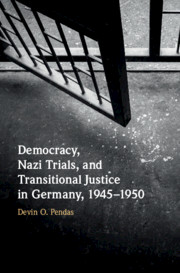 Devin O. Pendas (Boston College) has published Democracy, Nazi Trials, and Transitional Justice in Germany, 1945-1950 with Cambridge University Press. From the publisher:
Post-war Germany has been seen as a model of 'transitional justice' in action, where the prosecution of Nazis, most prominently in the Nuremberg Trials, helped promote a transition to democracy. However, this view forgets that Nazis were also prosecuted in what became East Germany, and the story in West Germany is more complicated than has been assumed. Revising received understanding of how transitional justice works, Devin O. Pendas examines Nazi trials between 1945 and 1950 to challenge assumptions about the political outcomes of prosecuting mass atrocities. In East Germany, where there were more trials and stricter sentences, and where they grasped a broad German complicity in Nazi crimes, the trials also helped to consolidate the emerging Stalinist dictatorship by legitimating a new police state. Meanwhile, opponents of Nazi prosecutions in West Germany embraced the language of fairness and due process, which helped de-radicalise the West German judiciary and promote democracy.
Praise for the book:
"A vast literature insists that the transition from authoritarianism to democracy demands that a nation frankly reckon with its past crimes. Pendas's new book brilliantly challenges this view. In exploring Germany's half-hearted and vexed efforts to punish and purge former Nazis and 'fellow travelers', he demonstrates how the German nation achieved an important political success at the cost of a disturbing moral failure. His is a fine and singular achievement." - Lawrence Douglas
"Pendas has spun a powerful cautionary tale about transitional justice, a necessary corrective to the idea that liberal-legal trials in the aftermath of atrocity necessarily lead to democratization. As Pendas shows with his usual erudition, the very different political fates of West and East Germany undermine any such happy teleology. An absolute must-read - and will no doubt be read for years to come." - Kevin Jon Heller
"This is the definitive account of the 'Nuremberg interregnum' … In a tour de force, Pendas takes the reader from Nuremberg to Dachau, Lüneburg, and Waldheim, and to the many places where investigations never made it to trial. Combining a keen eye for detail with analytical rigour, Pendas reasserts historians' authority on transitional justice's potential and its limitations. This excellent book shows how unintended consequences and perennially irrational actors defy neat models and precise cost-benefit analyses." - Kim Christian Priemel
Further information is available here.
--Mitra Sharafi