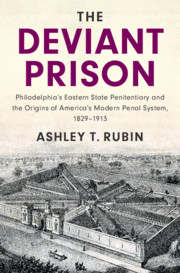 Ashley T. Rubin (University of Hawaii) has published
The Deviant Prison: Philadelphia's
Eastern State Penitentiary and the Origins of America's Modern Penal System, 1829-1913
with Cambridge University Press. From the publisher:
Early nineteenth-century American prisons followed one of two dominant models: the Auburn system, in which prisoners performed factory-style labor by day and were placed in solitary confinement at night, and the Pennsylvania system, where prisoners faced 24-hour solitary confinement for the duration of their sentences. By the close of the Civil War, the majority of prisons in the United States had adopted the Auburn system - the only exception was Philadelphia's Eastern State Penitentiary, making it the subject of much criticism and a fascinating outlier. Using the Eastern State Penitentiary as a case study, The Deviant Prison brings to light anxieties and other challenges of nineteenth-century prison administration that helped embed our prison system as we know it today. Drawing on organizational theory and providing a rich account of prison life, the institution, and key actors, Ashley T. Rubin examines why Eastern's administrators clung to what was increasingly viewed as an outdated and inhuman model of prison - and what their commitment tells us about penal reform in an era when prisons were still new and carefully scrutinized.
Praise for the book:
"Ashley Rubin's fascinating new book is a powerful reinterpretation of one of prison history's best-known episodes: the early 19th-century competition between 'silent' and 'separate' systems of penitentiary discipline. With a sociologist's grasp of organizational dynamics and a historian's concern for individual agency and contingent events, Rubin retells the remarkable story of the world-famous Eastern State Penitentiary with new depth and insight. The result is a sociologically-informed history that reveals the abiding significance of this 'deviant prison' and uses its flawed idealism to point up the abject deformation of American prisons in the age of mass incarceration." - David Garland
"In a compelling analysis, Ashley Rubin examines how a 'deviant' commitment to solitary confinement persisted in one of the earliest American prisons, Eastern State Penitentiary. She convincingly argues that Eastern State's very outlier status undergirded the deep, decades-long institutional commitment to a doomed system of punishment, shedding new light on how penal aberrations speak to both past and current state punishment practices." - Mona Lynch
"Ashley Rubin has set a new bar for historical social science. Through dogged archival research and incisive analysis, she explains why Eastern State Penitentiary retained its unique system of prison discipline for so long: prison administrators couldn't let go because their status depended on the survival of the deviant prison. Demonstrating the power of personal institutionalization, Rubin shows that forces inside the criminal justice system shape both penal history and paths to change." - Joshua Page
Further information is available here.
--Mitra Sharafi